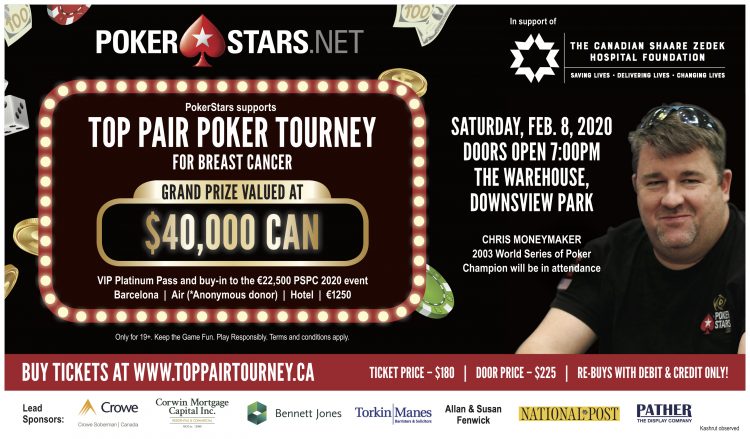 PokerStars is giving you another way to take a seat at the 2020 PSPC. This time your efforts to try to win your way to Barcelona in August will also help the fight against breast cancer.
A Platinum Pass will go to the winner of the Top Pair Poker Tourney for Breast Cancer in Toronto, Canada with proceeds benefiting the Canadian Shaare Zedek Hospital Foundation.
PokerStars ambassador Chris Moneymaker will be in attendance at the event on Saturday, February 8 at The Warehouse at Downsview Park at 2-35 Carl Hall Road in Toronto.
For more information about how you can win your way to the 2020 PSPC, check out How to Win a Platinum Pass to PSPC 2020 in Barcelona page on pokerfuse.
It costs $180 to enter the tournament when you buy entry in advance, but we have a way for you to get a discount.
When purchasing your ticket from the Top Pair Poker Tourney website, use the Promo Code szpokerstars2020 to get your buy-in at the discounted price of $136.
Your ticket also includes open bar, access to food stations and a virtual reality lounge, plus, there will be free neck messages given.
If you wait until the day of the event, the buy-in will run you $225.
There will be rebuys and an add-on allowed for this charity event.