One very lucky duck going under the moniker "Spartiat 04" beat the odds to trigger the unlikely $1M Spin & Go and then proceeded to win it.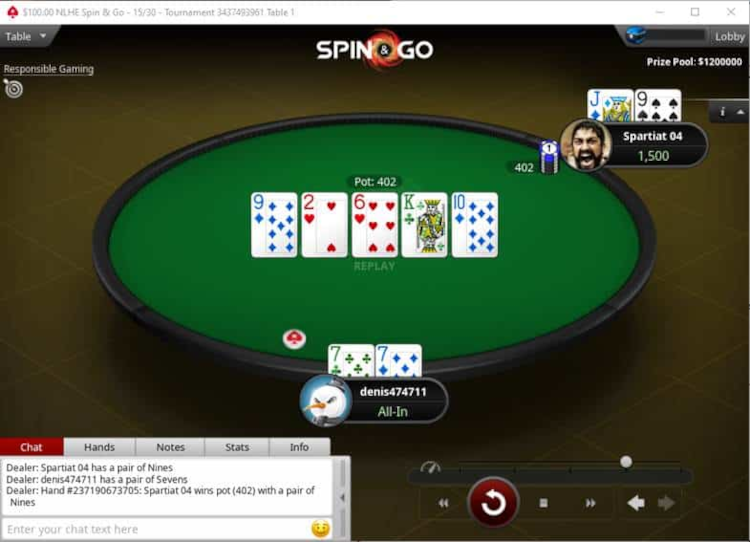 The idea of turning $100 into $1,000,000, as appealing as it may be, is also quite far-fetched. Even if you were the best poker player in the world, achieving such a feat would take winning a tournament with over 100,000 entrants.
But this incredible dream became a reality for one lucky player from Austria as he took down a rare $100 Spin & Go on PokerStars with the top prize of $1,000,000.
Spin & Go tournaments are a very popular format on PokerStars, where three players pay their buy-in, and the prize is determined at random before the first hand is dealt. The prize pool can be anywhere from 2x to 10,000x the buy-in, and the games are usually played in the winner-takes-all format.
The rules are slightly different in the case of these $100 Spin & Gos. The total prize pool is $1.2 million, with $1,000,000 going to the winner and the other two players receiving $100,000 each.
The odds of triggering the top multiplier are 1 in 1,000,000, similar to winning a lottery, but the Austrian player going under the moniker 'Spartiat 04' is not the first lucky winner.
PokerStars has made a handful of players instant millionaires through these special Spin & Gos, and the room has no plans to stop. Granted, the $100 buy-in is pretty steep for most players' bankrolls, but for those who can afford it, it is easy to see where the appeal of this particular format comes from!
Feeling lucky? Sign up for PokerStars and may the odds be ever in your favor