2013 WSOP hardware has a near 6-figure price tag on Ebay.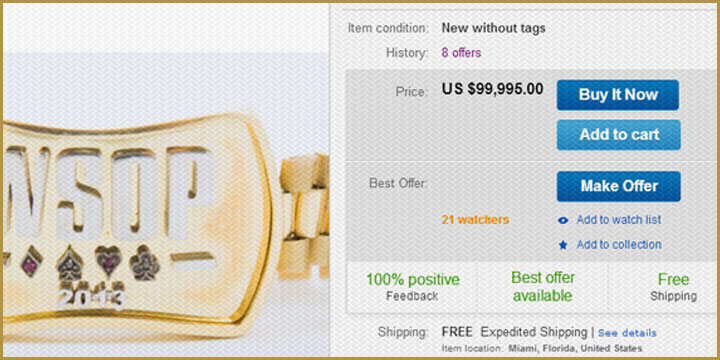 It's not the first time and it won't be the last. You can now, literally, purchase yourself a World Series of Poker gold bracelet without all the hassle of having to win a tournament.
A new 2013 WSOP bracelet surfaced on eBay this week. with a pricetag of nearly $100k if you want to "Buy It Now." Our sources say that the bracelet was originally won by Levi Berger when he defeated Scott Clements in Event #11 at the 2013 WSOP, the $2500 6-handed no-limit event, for a first place prize of $473,019.
The eBay page has it listed as a "World Series Of Poker Championship 10K Yellow Gold Bracelet From 2013 Year" which in the poker world implies it came from a 10k Championship event. In the real world though, this indicates that it's actually just 10 karat gold. Making the $100k price tag just a little bit steep.
How expensive is that? Well, if you remove any sentimental attachment, at today's gold prices, the bracelet would need to be solid gold and weigh nearly 5 full pounds in order to equal the value of what is being asked.
If this bracelet indeed goes for $100k, just how many WSOP bracelet winners would rethink keeping their victory wristwear? How much money would a real sentimental bracelet, like Johnny Chan's 1988 WSOP Main Event bracelet, be worth?
Finally, if you're one of those people that think $100k is too expensive — note that they are offering free shipping.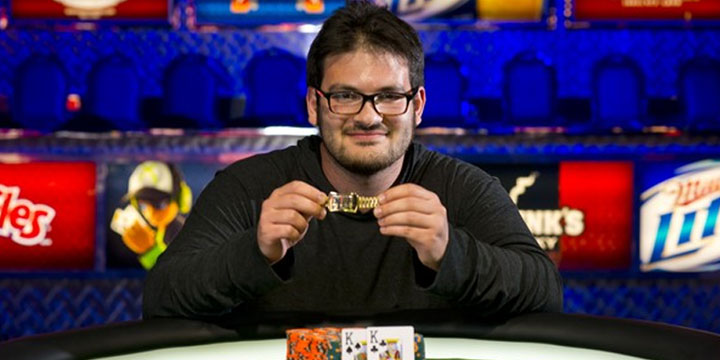 Is this the bracelet that is for sale? Photo courtesy of The Hendon Mob