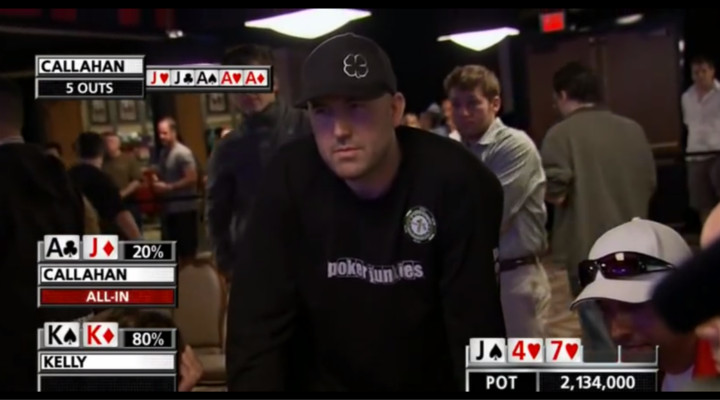 If you are a WSOP on ESPN junkie (like we are) then you might remember the name Mars Callahan.
Mars is the writer/actor/director of the movie "Poolhall Junkies" and, at the time of his stint on the WSOP broadcast, he was working on the film 'Poker Junkies' (which he supposedly raised $8M to make).
Well, it seems this poker playing Hollywood actor, who has appeared on ER, The Wonder Years and Cagney & Lacey to name a few, may be in over his head as it came to light that he is being sued — big time.
According to the website Court House News Service, Callahan's former company, Gawk Inc., is taking him to court for a myriad of things not the least of which is threatening to "put a bullet in the head of the current CEO of Gawk."
After they were fired, Callahan and Hermansen "fabricated a $3 million contract and inserted a $1 million default provision, and threatened to put a bullet in the head of the current CEO of Gawk and also threatened the teenage son of one of Gawk's consultants, for the purpose of extorting a favorable severance package," the lawsuit states.
In addition to that it seems as if Mars and his business partner John Hermansen are also being sued for other stuff like security fraud and racketeering. Gawk Inc. which produces online content, says that Callahan raised the $8M for the feature "Poker Junkies" and an additional $3.3M for two shows, one of which was to be about poker players, but did not end up producing either.
Instead, Mars supposedly got some work done on his house with the cash.
While all of this (and more) is one side of the story, Gawk feels their case is strong enough to take to court and is looking to put a pretty bad beat on the entertainment entrepreneur going after quite a bit of restitution.
Gawk seeks punitive damages for fraud, RICO fraud, conspiracy, securities violations, breach of contract, breach of faith, conversion, and breach of fiduciary duty.
Remember Mars? Check this out: 'Poolhall Junkies' Director Accused of Threatening to Kill Businessman
Bonus: Mars Callahan stops by fellow poker enthusiast Kevin Pollack's web chat show just last month.