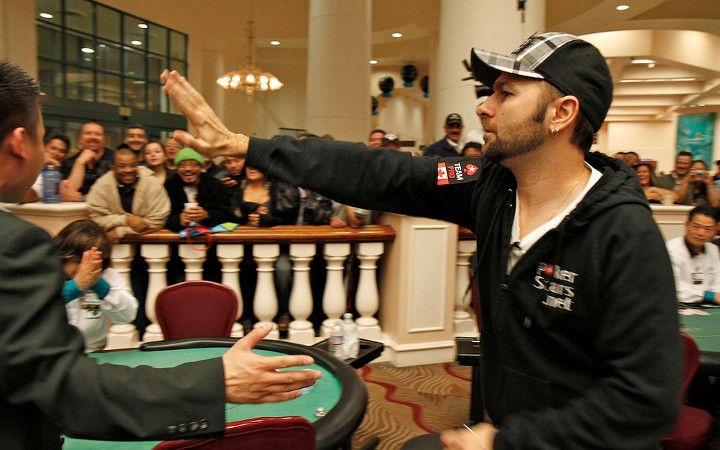 In the wake of (Victoria Coren Mitchell* resigning her post as a Team PokerStars Pro, due to the fact that they are getting into the casino business, some other sponsored pros were forced to come to grips with how they felt about representing a company that went from solely poker to offering all of the casino games.
One such pro is the face of PokerStars – Daniel Negreanu. As far as Daniel is concerned: it's no problem.
Over the weekend Daniel took to his blog on the Full Contact Poker forums to basically say that unlike Vicky, he doesn't have a problem with "CasinoStars." (although at no time does he mention PokerStars)
I would personally feel like a hypocrite if I justified that it's OK for me to take money from problem gamblers, but it's not OK for the casino to do the same. if it's wrong it's wrong, no matter who profits. As much as we'd like to separate poker from gambling, poker played for money IS gambling. There will be some winners, and a vast majority of losers.
Daniel goes on to explain his life philosophy when it comes to gambling and acknowledges that his success is in large part due to the failure of others (at the poker table) and that when it comes to playing poker or any other type of gamble gamble – it's a buyer beware world.
Examples exist in society of people we may aspire to be that have beaten the odds and made it to the top of poker, sports betting, and the stock market. I don't know of any such delusions when it comes to casino games. The math is quite simple, the more you play the more you are going to lose. You "could" win, and you will win occasionally, but the game is obviously rigged in such a way to ensure the house always wins in the end.
In the end, while he respects Victoria's decision to leave PokerStars, it doesn't look like he's having second thoughts. Check out Daniel's outlook on PokerStars introduction of casino games as well as his views on all things gambling.
Read: My Take On Poker And Gambling
Bonus: More commentary about Coren-Mitchell's departure from PokerListings. Let's Get Over Our Hypocrisy in the Vicky Coren Mitchell Affair
Double Down on Daniel: Check out this recent in-depth interview with Daniel where he talks about…well, everything.