New photo and testimonial claims of massive money in play.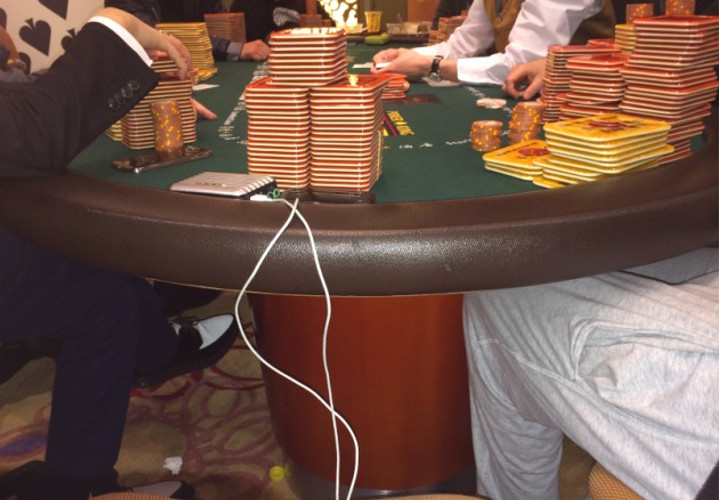 The legend of Macau's ultra-high-stakes games got another shot in the arm this week when poker pro Tom Hall posted a photo of some serious cash on the table at the big game at Poker King Starword. According to Hall, "two well known international pros" were huge staked and there was roughly $20million in chips on the table plus vouchers. Hall's post on Two Plus Two stated that there was so much cash, there was literally no space to play.
Got to the table and even at first glance, I'm like "Holy S…" what is going on here. Two well known international pros have got giant stacks in front of them and the rest of the table were all Asian players. There were literally so many chips on the table that there was no space to play. Pic attached below as a sample. The guys have been playing for 2 days with the odd 4 hour break here and there.
He states that blinds were $4k/$8k US and had been even higher…
Then I looked more carefully and noticed a few "vouchers" floating about for HK$5m at a time as they had run out of physical big denomination chips. In total approx. US$20m of chips on the table!! Blinds when I was there was a mere US$4K/US$8K but they had been playing as high as US$12.5K/25K earlier in the sessions. Wasn't a game I was keen to join with even the smallest stack sitting with US$1m in front of him.
Those HK$5m vouchers are worth $650k USD. The hand Hall witnessed saw two players chop what would have been a $5m pot to the victor.
The largest pot I saw at the table had a fairly quiet start on a KH 10S 7S board, which exploded with a 10D on the turn and a 5s on the river. After an unusual amount of tanking both a local and a pro, both ended up all in for a HK$40m (US$5.1m) pot. Lot of excitement ended up in a chop with both holding A 10. Saw some pretty sick river bluffs with river bets of US$700-800k going in which were treated with much amusement at the expense of the folding player.
How much cash is in this photo? Hall states that he's "fairly certain" the Yellow plaques are HK$500,000 or ($65k), the Orange plaques are HK$100,000 ($13k) and the Brown chips are a mere HK$10,000 or ($1.3k)