PokerNews is out as the "official live reporting team."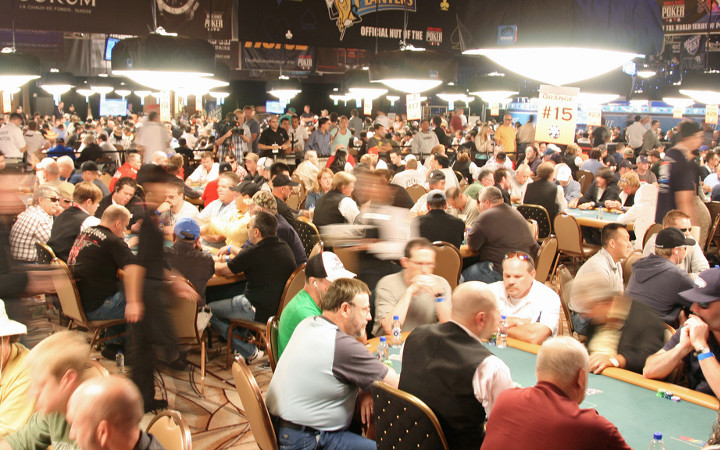 It looks like removing the $10,000,000 1st place guarantee and paying out 1000 places wasn't the only major change to happen to the upcoming 2015 World Series of Poker.
At first it was just some behind the scenes rumblings, which were then confirmed by Matthew Parvis of PokerNews himself – fans may be getting live updates this year but PokerNews will not be providing it.
With speculation that the WSOP would be handling coverage of every bracele events with the use of an in-house team, F5Poker reached out to WSOP Vice President of Corporate Communications, Seth Palansky, to see what was in store for the fans who rails the premiere poker series from the comfort of their couches.
"There was once a day we got paid a significant amount by a third party to provide live reporting and split the traffic.  Those days are gone.  PokerNews asked for a nearly 200% increase this year to do the job and we simply can't justify that expense in a traffic-sharing arrangement.  We were pleased with PokerNews' work and are sad that we won't have them live reporting the 2015 WSOP."
With that it looks like the WSOP is headed into new territory when it comes to covering their own event. Palansky indicated that there is indeed interest from other third party operations to take over the live updates and the "official live reporting team" mantle, but with their experience in covering their own WSOP Circuit Events, Palansky believes that they have the capability to take on the task themselves.
In previous years, as the "official" team, PokerNews held the honor of being the only media outlet able to shoot video from the tournament floor – so while perhaps you'd catch their correspondents chatting it up with a player tableside, other credentialed media entities were forced to conduct their subjects in a media room or other designated area. So if the coverage comes in-house will everyone be able to get footage from the floor? Palansky explains that video coverage from the tournament floor has little to do with anyone obtaining the "official" status and more so their contract with ESPN as well as security issues.
"We have a deal for video with ESPN that has iron-clad terms, there are egress and ingress issues, fire marshal issues, tournament security issues during breaks, etc."
Which means that in terms of video, he doesn't see the media guidelines "changing much over previous years."
So, bottom line – can the fans expect to see the same kind of coverage in 2015 that the railbirds have seen in years past? If the WSOP does go the route of bringing the coverage in-house, Palansky indicated that they hope to bring aboard experienced staffers who have excelled in tournament reporting in the past. While he stated that they would expect there "there will be some hiccups and some lessons learned" the intention of an in-house team would be the same as any team looking to cover the series. To do it well.
Palansky also noted that while, yes, the live updates are important, officials at the WSOP "have seen a dramatic shift of users who tune into the livestream as opposed to getting the live updates.  So when the tournament is at its most critical point, we are confident the fans/viewers/users will have great coverage."
That said, nothing is set in stone yet. WSOP officials do expect to finalize which entity will be handing the bulk of the "official" coverage by mid-February, when the WSOP is about 100 days away. He indicated that in the 24-hours since the news leaked that PokerNews will no longer be official in that capacity, many people have reached out to the WSOP eager to work with them and, adds Seth, "We encourage more people who have interest to reach out."
The 2015 World Series of Poker is set to kick off on Wednesday May 27 at the Rio All-Suite Hotel & Casino.