Run It Once Poker Offering 91% Poker Option Until Nov 4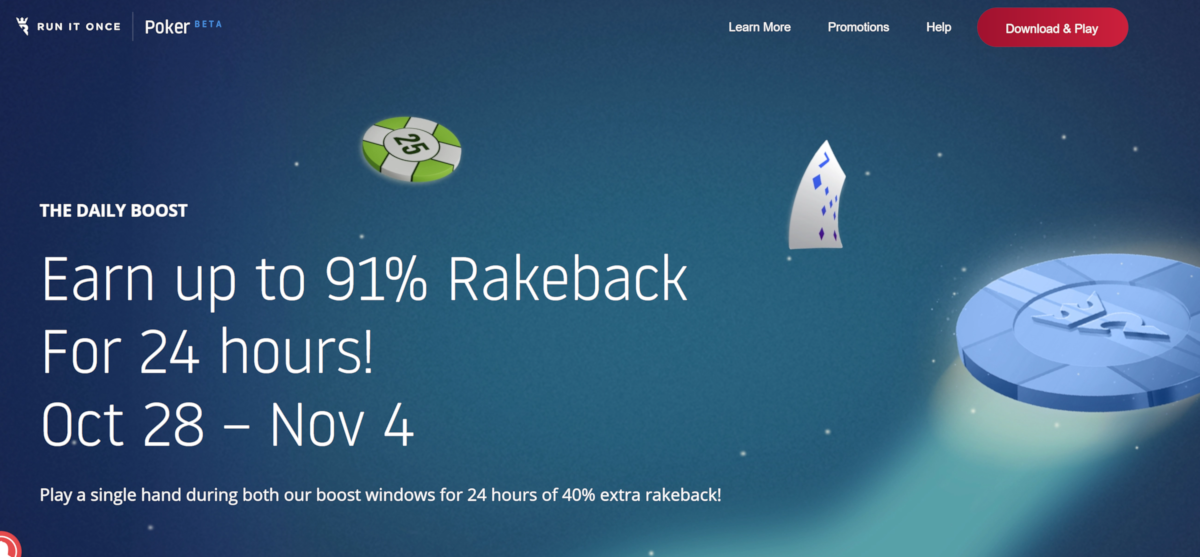 The latest promotion at Phil Galfond's Run It Once Poker is called The Daily Boost, and it is giving players a chance to earn 91% rakeback,
The promotion runs daily until November 4 with two boost windows occurring each day. During those windows, players can unlock 20% or 40% extra rakeback that lasts for 24 hours from 18:00 CET.
Just play one hand in either boost window and you will unlock 20% extra rakeback—play one hand in each of the two windows and you will unlock 40% extra rakeback, which along with the 51% you normally earn in rewards from RIO Poker via Splash The Pot brings you to 91%!
Sound Good? Wanna play now? Sign up here and also get up to €600 in deposit bonuses!
The first boost window runs between 18:00 and 20:00 and the second boost window run from 00:00 and 02:00 (all times CET}.
After the promotion ends on Nov 4, players will get their additional rewards within 96 hours.
Click on this link to sign up to Run It Once Poker and in addition to the chance to earn up to 91% rakeback you can get a 100% deposit bonus on every deposit you make during your first 30 days (up to a maximum of €600).