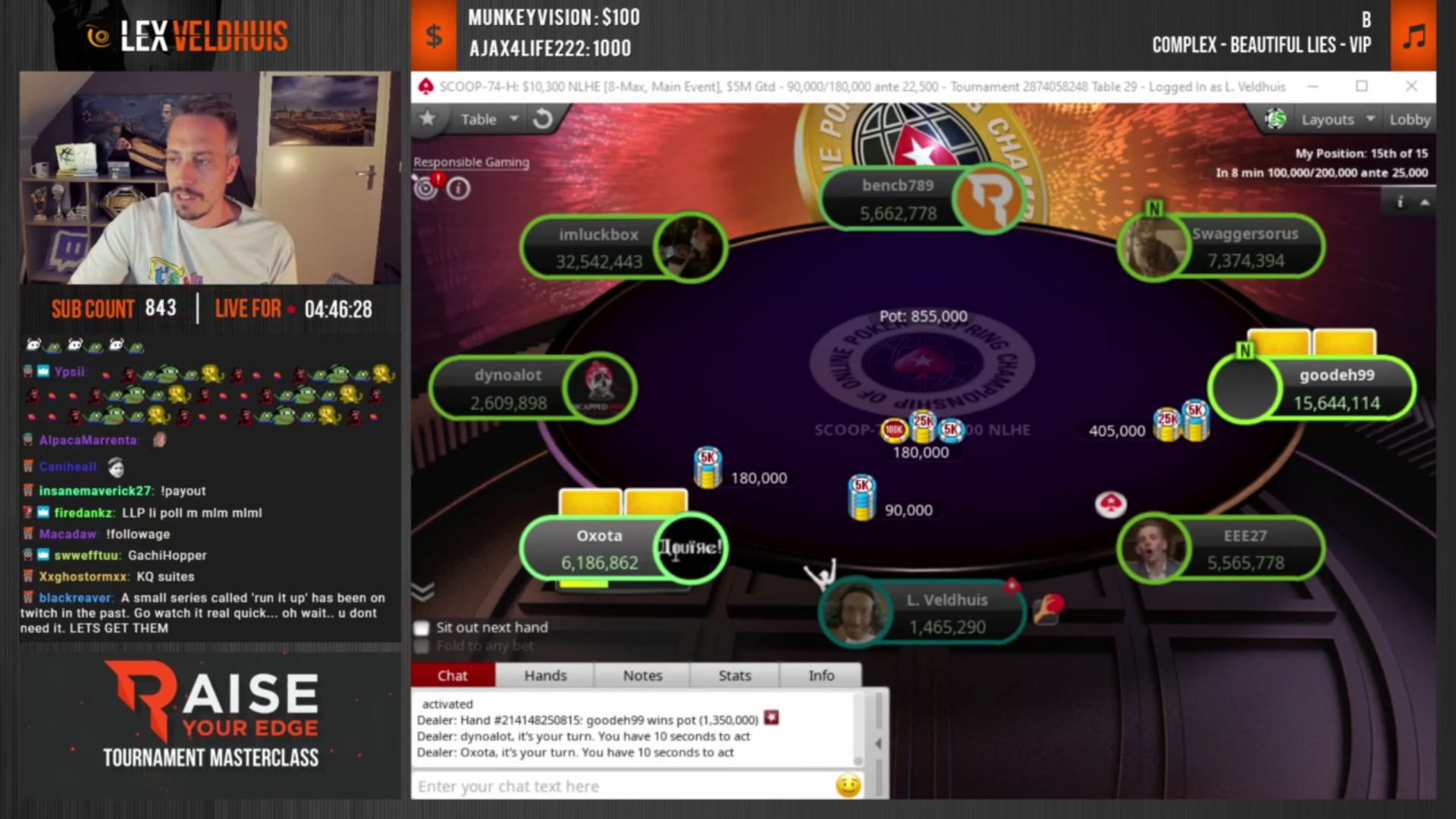 Last night, PokerStars Team Pro member and Twitch poker star, Lex Veldhuis, broke the 50,000 viewership mark on his Twitch channel as he came close to reaching the final table of the $10,300 buy-in SCOOP Main Event.
At its peak, Lex Veldhuis' channel was the highest watched stream on the whole of the Twitch platform with over 58,799 viewers. It sets a new record for concurrent viewers of any poker Twitch stream.
The previous record of the most concurrent viewers was around 37,000 set by another legendary poker live-streamer, Jason Somerville. That record came during WCOOP in 2015. In fact, Lex came very close to beating that record two years ago.
Lex made it into Day 3 of the SCOOP Main Event along with his friend Spraggy also PokerStars Team Pro. Unfortunately, Spraggy was knocked out by Lex with Aces, and eventually finished in 30th place for close to $41,000.
"That's the worst I've ever felt winning a hand," Veldhuis tweeted after knocking his friend.
Lex finished in 15th place and won over $62,000.
9 players remain in the tournament and will battle it out today, with each guaranteed to win at least $95k. The first-place prize is $1.06 million.
"I think words fall short of what tonight's session was," Lex said to PokerStarsBlog. "I broke the world record for the number of viewers for Twitch Poker with 58,799. I live in a town with only 48,000 or so people who live here. That's crazy."
"When I saw the viewer amount I couldn't believe it," Lex said. "I was ranked no.1 on Twitch out of 125,000 live streams. It's overwhelming how crazy that is. It feels like such a milestone."
"It was a super hard struggle. I was card dead, but in the end, I'm super happy," he said. "I finished 14 spots away from $1M which always hurts, but the overwhelming thing to take away from today is the Twitch record and the support I received from everybody, the subs, good friends, family, everybody was sweating it so hard. All the messages I got after, it's an insanely nice bonus."