When pocket aces are hard to play--the eventual winner of the Unibet Open finds a tough ICM spot with a very strong hand.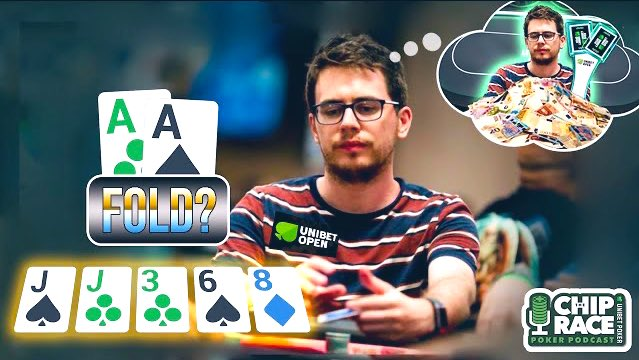 Pocket aces is the best starting hand in hold 'em, and it's usually pretty easy to play. At least before the flop, the player knows they have the best hand, and so aces get played aggressively. However, ICM can throw a wrench into that plan.
Padraig "Smidge" O'Neill eventually went on to take this tournament down as part of his two Unibet Open titles in a row during 2020, but while the table was still eight-handed, he ran into a very tough spot. Sitting to the left of the chip leader, he woke up with aces on the button, facing an open from the chip leader.
O'Neill was in second in chips, and while in normal situations, the aces would be a great spot with a chance to perhaps take over the lead, ICM loomed largely. O'Neill recognized he had a skill edge on the table, complicating the spot for the Irish grinder.
O'Neill flat out admits in the segment that he folded for ICM considerations. At one of the softest $1k final tables in the entire online pokerverse, he knew that going out in 8th place while he was second in chips would be a huge ICM mistake, but it seems his opponent may have had the same knowledge.
Faced with a decision for his tournament life on the river of a jack-high paired board, Smidge found a fold that many poker players wouldn't have been able to find, mucking his aces to preserve his second-place position. In The Chip Race's analysis of the hand, solver and ICM genius Dara O'Kearney confirmed that O'Neill made the right play, preserving his chance to go on and win the whole thing.
Check out the full video below to watch O'Neill make the biggest fold of the game, and perhaps one of the biggest of his life, and get an excellent look inside the head of a two-time Unibet Open champion.