WSOP Bracelet Winner's viral video get some context.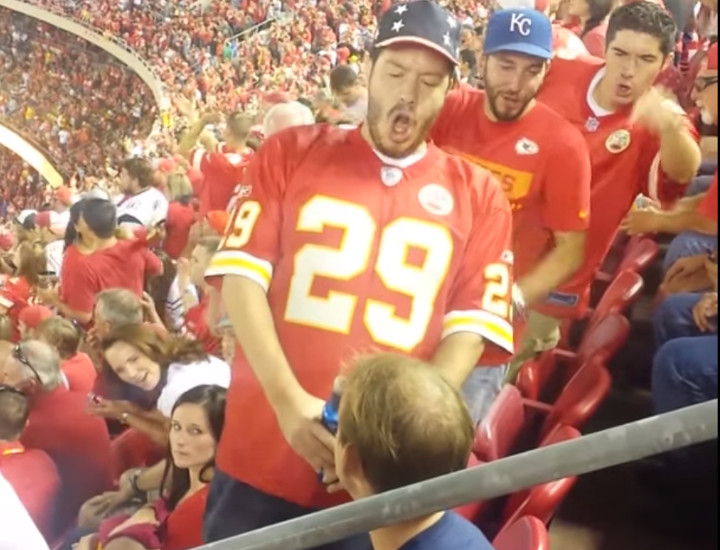 Yesterday we posted about World Series of Poker bracelet winner Grant Hinkle's near viral video of extreme Kansas City Chief fandom, literally, "in the face" of a stubborn New England Patriots fan.
Must see: WSOP Bracelet Winner Grant Hinkle's Dick Move Caught On Video
Well, late last night Hinkle took to the Two Plus Two forums to tell the full story, as he saw it, of how he came to be "face f***ing" the man sitting in the stands.
We boo all opposing fans going by. Nothing vulgar, just booing. Most laugh and move on. This guy turned back around after getting boo'd and then started trying to tell us about Tom Brady/Patriots. We continued to boo him with him staying in our face for 2 minutes until he eventually sat down in the aisle outside our seats. We kept booing and then when the White Stripes song came on I started "dancing at him". Crowd was laughing and cheering me on. I got frenzied and definitely took it further than I should, but I am a sucker for a hilarious opportunity and laughs.
Wake up the next day and it has gone viral. Oops!
When we first saw the video on Tuesday morning, it had 105k hits…as of this writing the video is a few thousand away from eclipsing 400K views.
While Grant is taking some heat for how he comes off in the video. He seems to be taking it all in stride chalking it up to a life experience.
Ultimate goal is to have fun and make memories. I think the people that default to "d-bag" move are probably leaving a lot on the table when it comes to life. Enjoy it!
The guy that got air humped enjoyed his time, otherwise he would have left. We didn't force him to turn around come back and sit in the aisle right next to where he got boo'd. He wanted a confrontation. Like I said, I took it past the line, but I now have a memorable life experience.
Looking to kill some time, check out the whole thread over at Two Plus Two and get in on the conversation! Grant Hinkle and his friends Harassing fan