First prize is $500k and more than 26k entrants will double their money this weekend.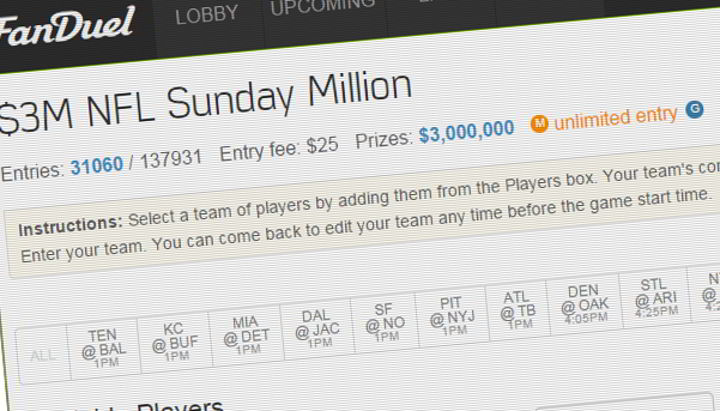 So if you haven't caught the daily fantasy sports bug forgo the vaccinations and check out the rush you will get with $3 Million up for grabs in a single tournament that only costs $25 to enter. That's right for the cost of a SNG you can have a shot at the $500,000 first place prize. And, all you have to do is finish in the top 26,405 and you will at very least double your money.
But you have to have some skill and pick the right players, and of course you need a little luck. You can use our expertise to help craft the winning lineup, and rumor has it that if you sign up through F5poker, the fantasy football gods will shower you with run good.
Today we're going to look at the quarterback position and give you our recommendations for who we think will have a big week.
This week it's hard to go against Aaron Rodgers. We know he's the second highest salaried player on FanDuel this week, but he's at home against the Bears, and the both teams are coming off a bye week. Look for Rogers to impose his will on his lowly division rivals.
Another high priced quarterback that we expect to do well this week is Peyton Manning. Yes, he's the most expensive player on the board, and, yes, he is on the road, but the Raiders offer little in the form of defense. Expect Manning to have a big day.
Just because he's had 12 touchdowns in the last two games, is there any reason to believe that Ben Roethlisberger can do it again? Yep there most certainly is, and that reason is that he is facing the New York Jets who consistently give up big fantasy football numbers to opposing quarterbacks. This week will be no different.
If you're looking for a value pick at the quarterback position, take a look at Mark Sanchez. Yes, that Mark Sanchez. He is taking over the high-powered Philadelphia offense for the injured Nick Foles, and he is facing a Carolina team that has given up tons of points this year.
If you like somebody that we haven't mentioned, Tweet at us or shoot us an email to let us know and perhaps we will post it as an update later on in the week.
Also, if you want to know who to start at running back, wide receiver and tight end, check back tomorrow and Friday for our recommendations at those positions.