Big names and anonymous businessmen throw down for $1 million.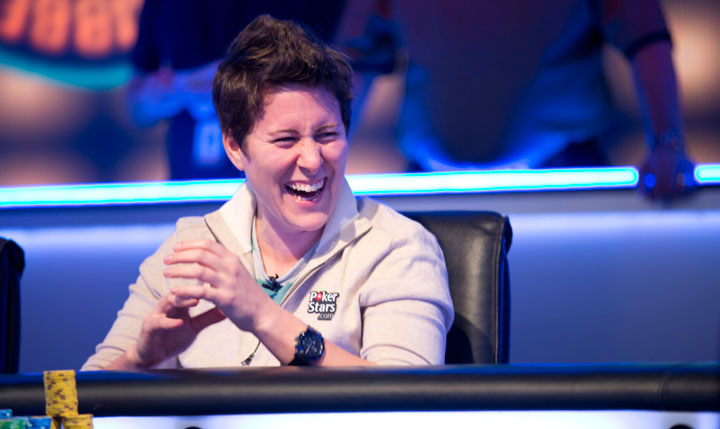 Today the World Series of Poker added 10 more names to the ever growing list of poker players crazy enough to put up $1,000,000 for a buy-in into the nose-bleediest sit-and-go of the year – the Big One for One Drop. Here's the breakdown:
Vanessa Selbst – they call her the best female poker player on the planet, but if you removed the word "female" she'd still be in the conversation. She's one of the greatest in the game and now she's the first female to put up $1M to participate.
"I'm so excited to be taking part in The BIG ONE for ONE DROP this year," said Selbst in the press release that you will read everywhere. "I didn't get to play in 2012, but after seeing how much fun everyone had with the event as well as how profound an impact it had on ONE DROP, I knew I had to be a part of it this time around."
Jean-Robert Bellande – the dude paid in cash. Guess he's not broke no more.
Anthony Gregg – this young pro put his name on the map by becoming the 2013 One Drop High Roller champion to the tune of $4.8M.
Igor Kurganov – The Russian All-time money leader and high-roller regular.
Meet The Germans
A quintet of amazingly sick young German pros all added their names to the list too.
Fabian Quoss, Max Altergott, Tobias Reinkemeier, Christoph Vogelsang and Niklas Heinecker all German, all badass and all looking to make their name in North America at the One Drop.
Finally, please welcome – ANONYMOUS ASIAN BUSINESSMAN!! Please note, F5 didn't denote his nationality – that is in the press release. Apparently, that's necessary info.
Read: Esfandiari, Trickett and Ivey Join 'Anonymous Businessmen' In The 2014 Big One For One Drop
As of now, 32 seats of the allotted 56 player cap are filled and still no Daniel Negreanu or Phil Hellmuth on the list. The event takes place June 29-July 1 with ESPN covering the event from top to bottom.