Check yo self before you wreck yo self.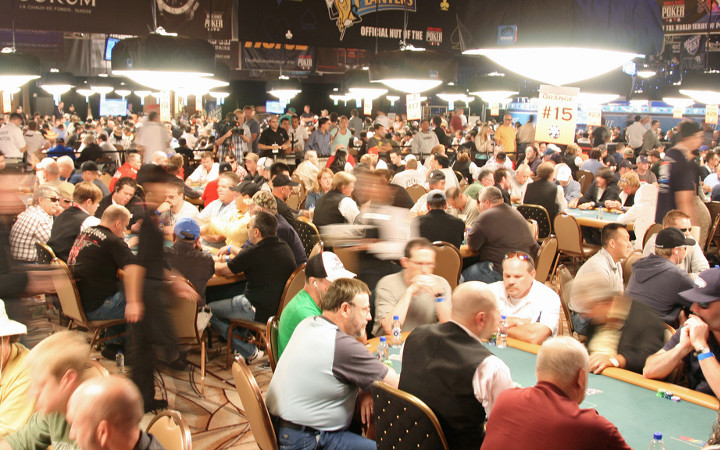 Carter Gill to David Diaz, Chan Pelton to Sam Panzica every year it seems someone finds themselves facing the consequences of actions they probably wish they hadn't taken.
They've been banned from the World Series of Poker.
For most players, this isn't an issue but after we ran a post about 3-time WSOP Circuit Champ Sam Panzica being denied a reprieve from a ban he received last November, we reached out to the WSOP's Seth Palansky to talk about the banning of players and what can possibly be done about it.
Seth opened up for us about "incidents at casinos" and how they are handled as, believe it or not, no one wants to be wielding the banhammer.
"Of course, every case is unique and weighed individually," Seth told F5 "The World Series of Poker has no input or involvement in the decision-making of [incidents at the Rio]. As in any incident occurring on casino property, the issue is elevated to the security department, risk management department, legal department and in some cases, local, state or federal law enforcement officials."
"Unfortunately our fondness for a player, his or her history of proper conduct in our events, etc., have no bearing on getting someone reinstated. It's an important message for players to understand. If your conduct results in security staff involvement, you face the real possibility, if you are the perpetrator, not the victim, of losing the ability to walk inside our casinos and there isn't anyone at the WSOP who can help you get out of the mess."
On disciplinary action, Palansky also stressed that punishment isn't something that is negotiable. This is in no small part due to the litigious nature of people when they think they can make a quick buck of the cash friendly casinos.
"If your actions warrant discipline, prepare to be punished I'm afraid. And yes, typically the punishment is severe, because casinos are private property and are often targets of the legal system. Victims tend to go after the presumed deep pockets of the casino and attempt to hold them liable for an individual patron's actions. Thus, with potential legal filings in cases often taking a while to be cleared up, casinos err on the side of caution and keep individuals out who have been involved in incidents until such time they deem sufficient, which sometimes is never depending on the severity or the legal process."
On why a punishment can affect a player, Seth tells us why it's not just at the Rio but on all their properties.
"Our parent company, Caesars Entertainment always extends these bans to all our properties, in order to remain consistent and again err on the side of caution. So players should also be aware that their conduct, whether it happens at the WSOP or not, can impact their ability to play at the WSOP in the future."
Is there any hope for players who have put themselves in the position to be banned?
"There is an appeals process – but after a certain point in time – and the appropriate departments who oversee the case review it and take feedback from the perpetrator to determine if the ban should be lifted. Typically though, it is very hard to remove a ban if there is outstanding litigation or if the potential trouble involves harming employees. Time from incident and no other reported incidents elsewhere usually result in reinstatement at some point. We have had players reinstated and it does happen, but our advice is still to avoid incidents in casinos, especially if you make your living playing in them."
Finally, even though the WSOP and its employees may like a player, there's not much they can do.
"We at the WSOP do sympathize with the plight of individuals in some of these cases. We typically know and like the individual and haven't seen a pattern of behavior that would concern us. But one poor decision takes the matter out of our hands and in the hands of people who weigh the risk of an individual versus the risks to the company and its guests, and that is tough hand to outdraw most of the time."
Read More: How To Resurrect Your Dead Poker Career Part 2 – So You're Banned