Potential epic prop bet on the horizon?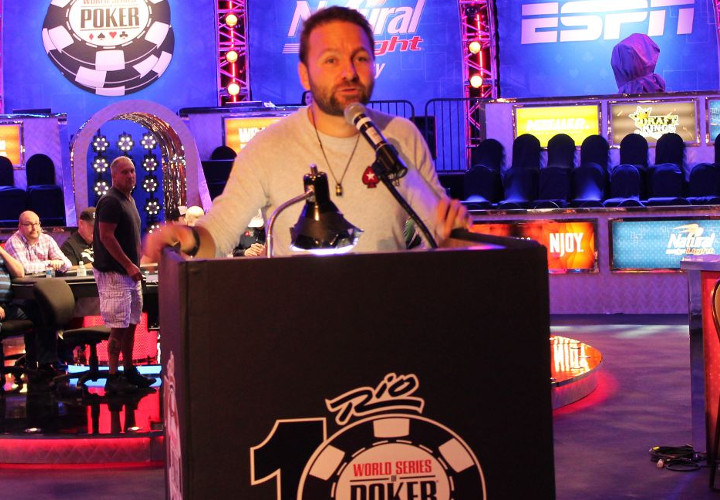 While Phil Ivey gets the general consensus nod for being the best poker player on the planet, there's a case that one could make for 2013 WSOP Player of the Year Daniel Negreanu. He sits atop the All Time Money List, he's the only 2-time WSOP POY in history, he's tied for 6th on the bracelet list with 6, and he's a two-time WPT Champion. "Kid Poker" is good.
But is he good enough to beat the 25/50 game online at PokerStars?
The online debate (some might say trolling) started once Negreanu began getting some "feedback" from followers about his televised play from the televised One Drop. He took a few moments to explain himself and provide some general poker advice,
Not good enough for some haters/doubters, including poker player Daniel Merrilees who gets back on the attack and question Daniel's "real world" ability by suggesting that he couldn't even beat the 5/10 online game on PokerStars.
Want to rile up Kid Poker? Question his ability on the felt, virtual or otherwise.
Confidence never an issue for the Choice Center alum, Daniel offered to take his critic for all they are worth and even provided all a reminder of his re-education of the high stakes online game back in 2010. While he may not be able to jump in today, within a couple weeks he could beat 25/50 again.
Not sure if serious, Negreanu was prodded a little more and then he offered up a plan that shows he's extremely serious.
Would bet a million.
The last time Daniel would bet "up to a million" he and Ivey took on the poker community in a bracelet bet…and won. Could this be another prop bet in the making? But who would take the opposition to Negreanu? Perhaps his One Drop nemesis…Daniel "DarkGame" Colman, who is not as confident in Negreanu.
Taking Daniel's side though is top-of-the-line good guy Isaac Haxton.
Is Negreanu up to the challenge once again? Back in 2010 he was very open about revamping his game, getting help and getting back into the biggest games online. Will this future Hall of Famer once again go back into the classroom and provide the poker world with one of the most interesting prop bets in recent memory?