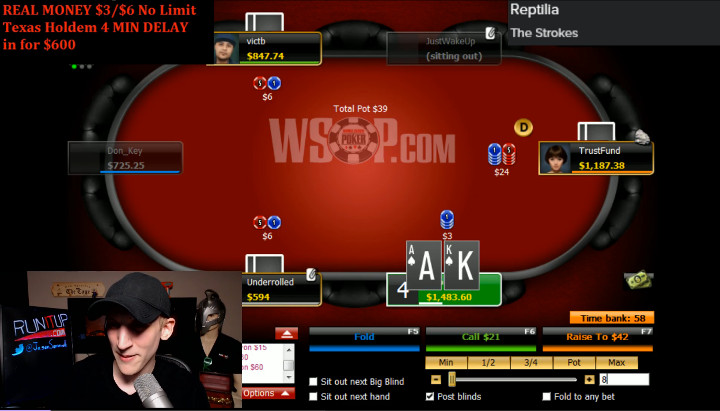 Rounders.
Moneymaker.
Twitch.tv?
While the next poker revolution may not be televised, perhaps it will be live streamed. Just ask Jason Somerville the leader of the new online poker streaming movement through his popular RunItUp campaign. Since leaving the now defunct Ultimate Poker, Somerville has increased his legion of fans through a delayed livestream where he grinds real money cash games and tournaments while explaining his thoughts on his process on Twitch.tv.
PokerNews, who is in the Bahamas covering the PCA, attended a discussion panel where Somerville discussed the relatively new frontier that is live streaming poker and the Twitch platform being perfect for beginners and enthusiasts to watch, learn and fall in love with the game of poker all over again.
"I feel like poker's best fit is on the Internet where you can stream whatever you want, whenever you want, for as long as you want," he said. "And not only is it cheaper and more cost efficient, but it makes more sense for poker."
Read: How Live Streaming Could Help Spark Another Poker Boom
It's not just Somerville who is bringing his game and insights to Twitch and other livestream platforms like YouTube. This past holiday season we saw the rise of the entertaining StickyRice1 as well as found pros like Dan O' Brien, Ryan Laplante and Marcel Luske streaming on Twitch. The practice of playing in public is catching on and it seems like the poker community is into it.
Over at PokerListings, they break down some of the benefits of watching others get their game on. Of course, there's poker entertainment but also the best streamers engage in conversation about what they are doing and why.
If you find yourself obsessed with poker – and we know you are – contend with the trolls and bask in some live stream goodness. If you are a broadcaster…hit us up! We want to know.
Read: Want to Get Better at Poker? Watch Free Poker Livestreams on Twitch.tv