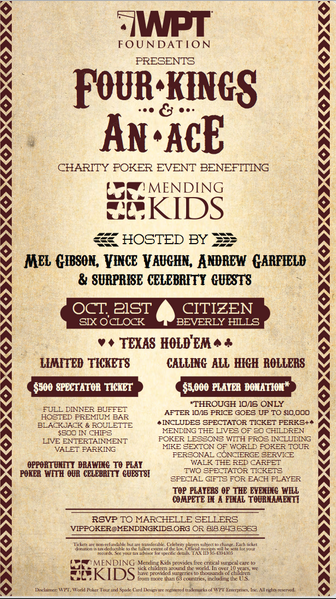 Mel Gibson, Vince Vaughn, and our most recent Spider Man, Andrew Garfield, will be playing host as the WPT Foundation is once again presenting the Four Kings & An Ace Charity Poker Tournament on Friday, October 21 at The Citizen, Beverly Hills.
The tournament is in aid of Mending Kids, a Californian non-for-profit organisation that has helped more than 3,000 children in 63 countries get access to urgent medical care.
The evening will include a charity poker tournament, casino games, and live and silent auctions.
It's not cheap, but it's all for a good cause, spectator ticket prices start at $500—a VIP player ticket costs $5,000. Both can be found here.
More details on this Friday's event can be found here.