Just hours to go before Busquet and JC enter the ring at Syndicate MMA in Las Vegas at 6pm. Watch Live here!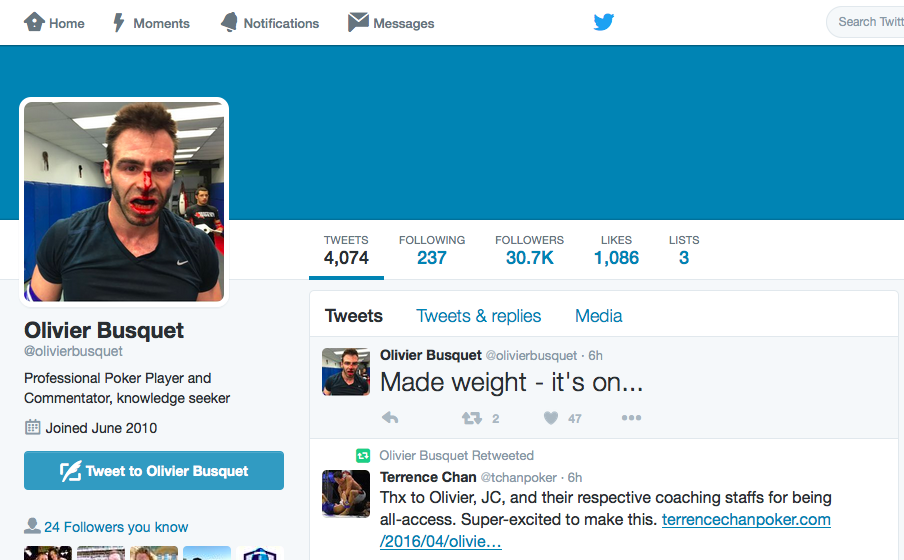 6 months on from announcing he was going to train for a Mixed Martial Arts (MMA ) fight, poker pro & La Sunset GPL Team Member Olivier Busquet will be fighting Mexican poker pro JC Alvarado tonight, in Vegas.
The fight will be held at Syndicate MMA in Las Vegas at 6pm local time. Tickets will be sold for $20 at the door and all proceeds will go towards One Drop — a charity that helps to tackle the water crises on a global level.
For those of you who can't make it to Vegas to see the fight live, a live stream has been set up, which you can watch here, so that no one misses out on the action:
Terrence Chan, another poker pro with a track record of MMA fighting, has been working on a special all-access audio documentary about the lead-up to tonight's fight. Terrance is asking for donations to make this audio story the best it can be. You can help out with your donation. Find out how here
You can also read Busquet's humbling story about what motivated him to take on this extraordinary challenge and how he got to where he is today over on his blog.
Even Daniel Negreanu seems to be getting excited ahead of tonight's fight…
Head over to his twitter account @RealKidPoker to place your vote.
We are rooting for you Olivier!