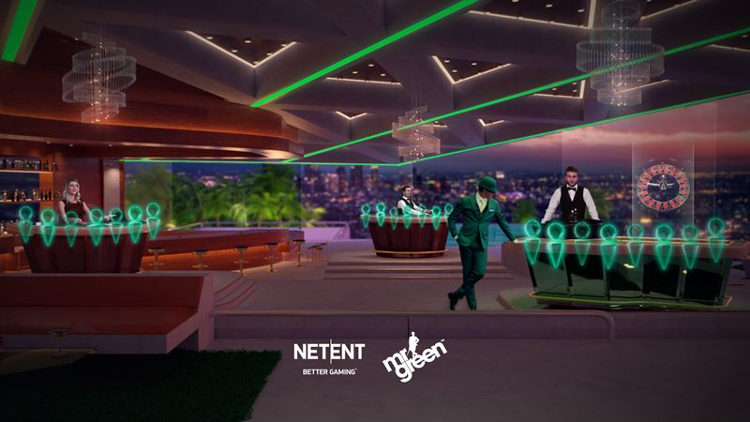 NetEnt AB, one of the worlds largest online gaming content providers, has developed a new 3D live casino product in conjunction with popular online casino company Mr Green.
The new product dubbed Live Beyond Live was recently unveiled at ICE Totally Gaming 2018 in London earlier this week. ICE Totally Gaming is one of the gaming industry's largest B2B event bringing together members of the land-based and online gaming sectors from all around the world.
The new gaming solution provides live casinos with the opportunity to give their players a unique experience that is highly customizable and fully compatible with mobile devices.
NetEnt boasts that the new product offers players a special casino experience and includes the ability for those offering the game to embedded live streams and graphics at "the touch of a button".
"The latest addition to our Live portfolio was created so we were able to provide a more immersive setting and to break down the physical constraints to create, what we call, a larger than life experience," Henrik Fagerlund, Chief Product Officer of NetEnt, said in a recent press release.
"We are constantly looking to push the boundaries of technological advances in the live casino world, and this breakthrough can help propel not only NetEnt, but operators in reaching new heights," Fagerlund continued.
Of course, Mr Green is excited about the prospects as well. CEO of Mr Green, Per Norman, has this to say about the new live casino product: "Taking live casino to a new experience is a proof point of NetEnt's technology leadership in the gaming industry. NetEnt and Mr Green share the same view on innovation and creativity as key drivers to offer a superior gaming experience. It's inspiring and promising to see the outcome of our joint efforts in bringing revolutionary new dimensions to online gaming."
As a part of the new live casino platform, players will be immersed in an environment that includes a multi-table gaming experience, multiple cameras offering a choice of camera angles that even allows players to see what action is going on at other tables. All of this, along with other advances in technology provide for a rich and vibrant user experience.
Currently the new platform offers players the choice of live dealer blackjack or live dealer roulette, but players are free to switch between tables and games at will.
Mr Green's website describes its implementation of the game as a "virtual casino floor [consisting] of a four-table area with two roulette tables and two blackjack tables, and people moving around on the floor, helicopters and airplanes flying by outside the windows, and other players betting in the background. The site cautions that only a mobile version of the game is on offer at this time.
NetEnt has been supplying some of the highest quality gaming content and solutions to online casino providers since 1996. With 900 employees in offices around the world in places such as Stockholm, Sweden; Krakow, Poland; and New Jersey in the United States, NetEnt is truly a global leader in the online casino industry.