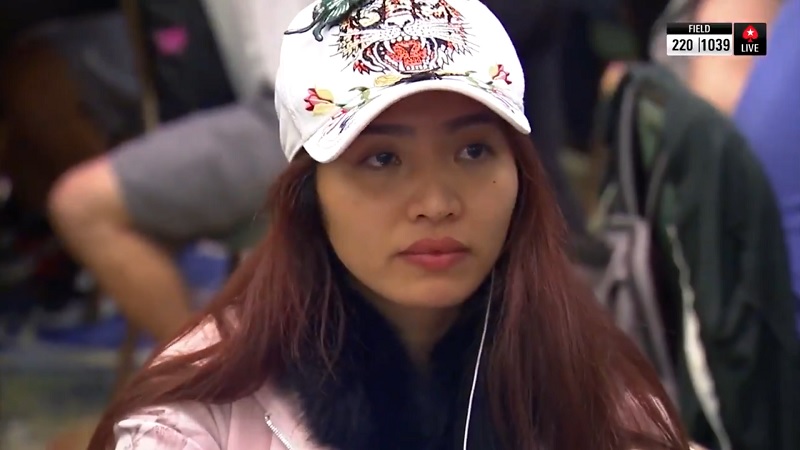 It was during day 2 of the history-in-making $25,000 buy-in PokerStars Players No Limit Hold'em Championship when a Vietnamese lady by the name of Thi Xua Nguyen stunned everybody by making this incredible laydown versus Athanasios Polychronopoulos, a Greek-American professional poker player with two WSOP bracelets.
220 players remained on the field when Nguyen raised from the button with Ad Qc only to get 3-bet to 37,000 by Polychronopoulos from the big blind who held a pair of Aces.
Nguyen made the call and the flop landed Ks 9s Qd. Both the players checked. The Qh on Turn improved Nguyen's hand to trips. She bets 17,000 after Polychronopoulos checked for a second time. He made the call and the Ace of Spade gave both the players a full house.
Polychronopoulos once again checked on the river with his Aces full. Nguyen bets 50,000 leaving her 153,000 chips behind but finds herself in a check-raise-all-in situation.
This is where things go crazy!!!
After tanking for a while, Nguyen lays down Ad Qc face up—a freaking Full house!!!. Out of respect for her incredible fold, Polychronopoulos flips out Aces and was himself stunned.
Did she misread her hand? No!!! She knew what she was doing. Nguyen put him on Aces or Kings and she was bang on right!!!
The hand was caught during the live stream and obviously, the viewers glued to the stream went berserk including the commentators James Hartigan, Joe Stapleton, and Lex Veldhuis.
Nguyen eventually finished 153rd for $25,450 and Polychronopoulos also made cash but busted against Platinum Pass winner, Jussi Nevanlinna.
What is more crazier is that on day 1 Nguyen won an EPT Monte Carlo package during a random draw table giveaway.