70% Rakeback is Back at Run It Once Poker!
For the next 2 weeks,
RIO

Poker is bringing back its popular 35/35 promotion.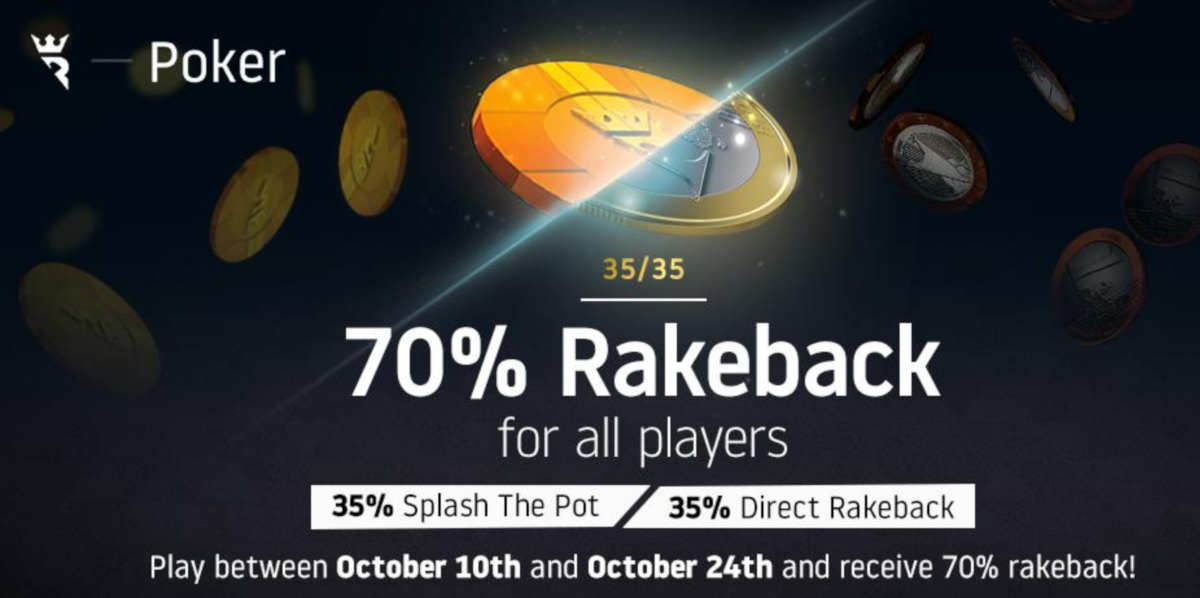 Starting today (Thursday October 10) and running for the next 14 days, every player at Run It Once Poker will get 35% direct rakeback for playing at the RIO Poker tables – PLUS, another 35% in rakback will be awarded right at the tables thought the fun and innovative Splash the Pot where random amounts of money are added directly to the pot.
Sound Good? Wanna play now? Sign up here and get up to €600 in deposit bonuses!
How Does Splash the Pot work?
At various intervals, the table will glow and chips will be dropped into the pot, with the winner of the hand keeping the extra cash.
Gold Chips are worth 1 big blind, bronze chips are worth 25 big blinds and platinum chips add 100 big blinds to the pot!
Whether or not Splash the Pot is activated is determined by the pot size of the previous hand.
Check the video below to see Splash the Pot in action.
When Will 35% Direct Rakeback Be Paid?
35% Direct Rakeback for play between October 10th (12:00) and October 17th (11:59) will be paid within five days of October 17th.
Payments for play between October 17th (12:00) and October 24th (11:59) will be made within five days of October 24th. All times are Central European Summer Time (CEST)
How Can You Earn Even More Rewards?
Click on this link to sign up to Run It Once Poker and you can get a 100% deposit bonus on every deposit you make during your first 30 days (up to a maximum of €600).
And there is no time limit to clear your bonus as long as you play at least one hand every 30 days.