Anon viewer makes it rain for PokerStars' new Team Pro.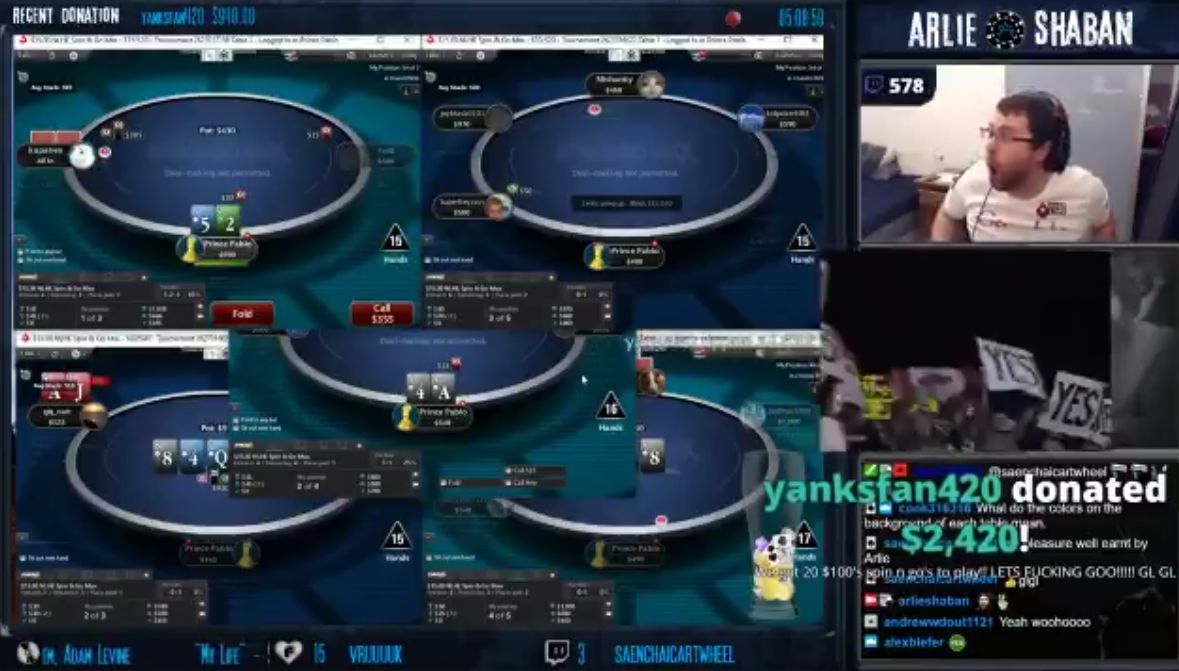 Talking about running good.
Twitch poker favorite Arlie Shaban, not six months on from shipping a Platinum Pass and playing in a $25k buy-in event, barely one month after getting signed up as a PokerStars ambassador, has completed the streamer triple crown: Hitting the donation jackpot from one lucky benefactor to the tune of $2420.
Here's the moment in all its glory (warning: profanity abounds!)
The generous donator, yanksfan420, wanted him to play 20 $100 Spin and Go Max's—and gave him the money to do so. It is by far his biggest donation to date.
Naturally, the PokerStars blog itself picked up the story, and apparently said the money was earmarking the gift for him to play in the Spin & Go 20 challenge on PokerStars. (that's not clear from the Twitch clip shared, but the fact that it's 20 spin and go max tickets gifted some seem to suggest a connection here)
What is Spin & Go 20? PokerStars is glad you asked—it's a new promotion where your results from your first 20 spins of the day (including but limited to Spin and Go Max) count towards a leaderboard with $16,000 prizes given away each day. Arlie's gift gives him all the buy-ins he needs to compete for a top tier prize one day.
Now the cynic in you might wonder if in fact yanksfan420 is a PokerStars stooge and this is a way of promoting the new games. But Arlie's reaction certainly seems genuine, so we can say with confidence that, even if that is the case, he wasn't in on it.
And let's be honest, I doubt he cares too much, and those 20 high stakes sit and gos will certainly provide some great entertainment for his viewers.