20th birthday celebrations at the global poker giant culminate with a huge Finale that has $5 million guaranteed.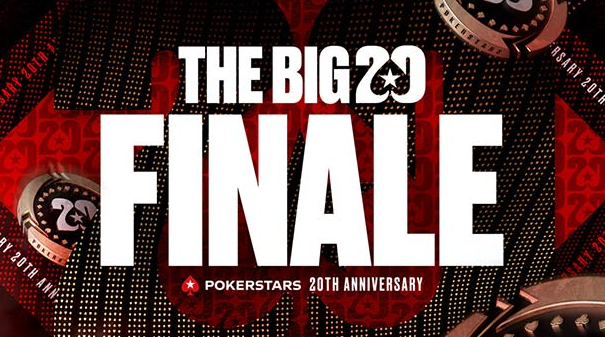 November is full of partying for PokerStars as it celebrates its 20th year as an online poker provider. The highlight of the series doesn't come until December though, with the huge Finale game on Dec 5th. The $55 game has $5 million guaranteed, so there will be massive prizes up for grabs for the top finishers.
As the wrap-up for the month-plus The Big 20 festival, The Big 20 Finale runs on December 5 to finish The Big 20 Rewind series with a bang. After the 20 retro-themed games of the Rewind are complete, PokerStars will nearly match the guarantee of that entire series in a single huge Finale.
Big 20 Promotions: Key Details at a Glance
| Date | Promo | Details |
| --- | --- | --- |
| Nov 1 | Boost | Daily leaderboards at Cash and Spins have boosted prizes |
| Nov 8 | Ticket Machine | Random giveaways to Finale at the tables |
| Nov 14 | Rewind | 20 themed tournaments with $5.5 million guaranteed |
| Dec 5 | Finale* | $55, $5 million-guaranteed tournament* |
To lead off, players are competing for boosted leaderboard prizes, and the famed Ticket Machine fires up next week to hand out random Finale tickets. After that, it's time for the Rewind and the Finale, so there are lots of things to keep players busy for the next month.
Check out our complete guide to The Big 20 festival, already underway on PokerStars.