Check out this fortnight and poker mix in a new innovative poker format at GGPoker.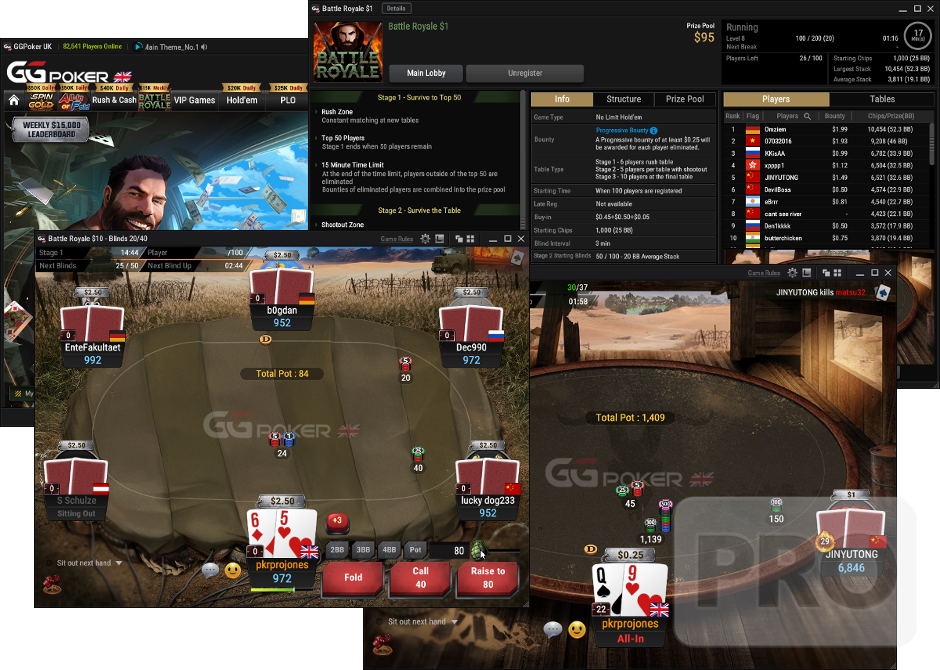 There is a new game in town at GGPoker with Battle Royale. The new gamified poker format combines aspects of fast-fold, shootout and knockout poker formats with the "last player standing" model of the Battle Royale format from first person shooter games.
The new format plays in three stages, taking elements from the larger gaming world, as well as many different poker formats. The entire tournament plays as a progressive knockout game, with players earning a bounty for every knockout, while also increasing the price on their own head.

Stage 1 of the game is a fast-fold tournament variant lasting 15 minutes, designed to whittle the starting field of 100 down to 50. If more than 50 people remain after the first 15 minutes, only the top 50 stacks will move forward, with any smaller stacks being eliminated and their bounties being redistributed to prize pool. This stage plays six-handed.
Stage 2 is another 15 minute phase, played in a five-handed shootout format. Only the last player standing at each of the final 10 tables will advance to the final stage. If there are still tables in action after 15 minutes has expired, the remaining tables move to an automatic all-in mode until a winner is decided on each.
The final stage plays like a 10-handed sit and go, with all players expecting a payout. With the action-heavy format in the first two stages, players at the final table should have very large bounties on their heads, making for some interesting decisions and confrontations at the final table.
The new game is offered at four low-stakes buy-ins ranging from $.25 to $10. Winners can expect to get more than 10x their buy-in back in prize pool prizes, plus whatever bounties they've collected along the way, and even 10th place earns more than a buy-in back in prizes.
If you don't have a GGPoker account yet and want to learn more about how to sign up and get the best Welcome Bonus, how to download the GGPoker mobile app, what games are offered, and why it is ranked one of the top online poker sites globally, then check out the comprehensive GGPoker Review on our sibling site pokerfuse.