Kevin Mathers has long been an essential Twitter follow for poker fans. Now, the walking poker database has a subscription-only substack that poker fans need to see.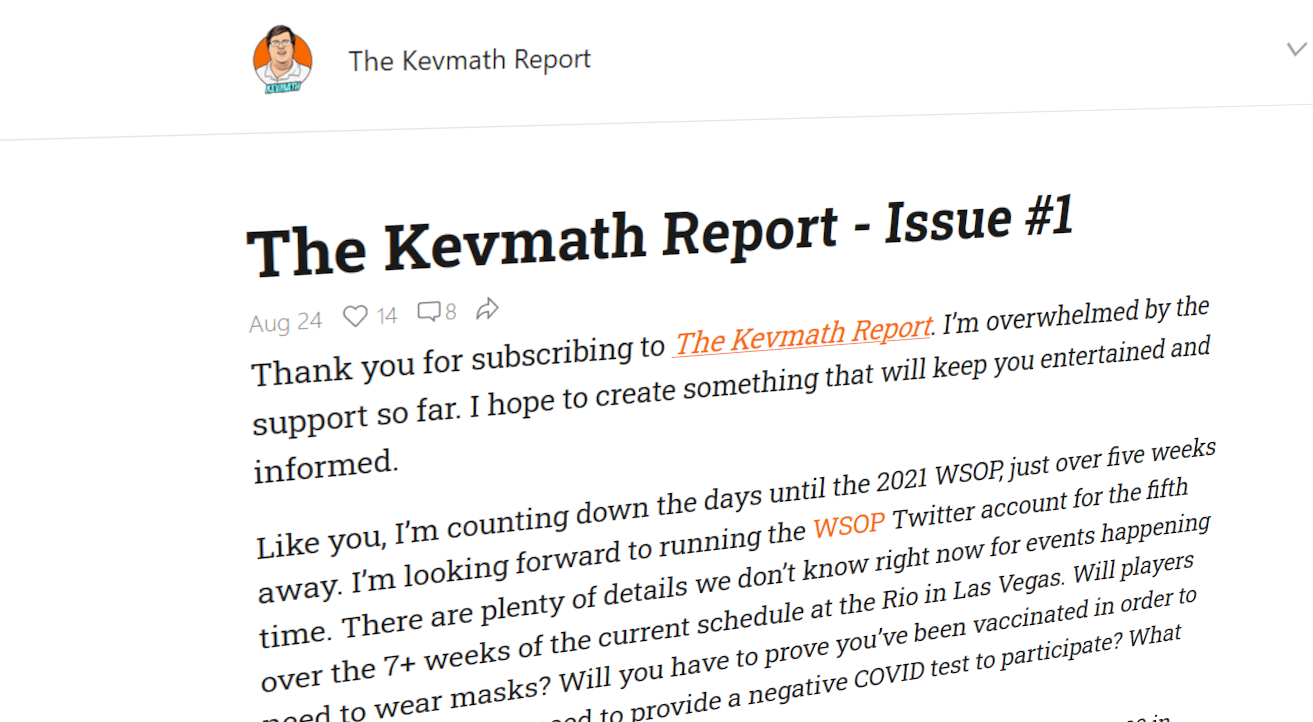 Even if you are just a passing poker fan, the name of Kevin Mathers is still likely a familiar one. Affectionately known by his Twitter handle, Kevmath, Mathers has been a fixture in the poker media world for years.
Mathers has been an essential follow on Twitter for poker fans for ages now, but there's a new source of exclusive news, views and opinions on the poker world from the poker pundit. The Kevmath Report is Mathers' latest foray into providing the world with the most accurate and complete poker info possible.
In the inaugural edition of the Report, Mathers said his plan was "to create something that will keep you entertained and informed." That's a goal he's already scored over many years of Twitter activity, but the new substack page looks to be a wonderful, deeper peek inside the mind of a poker media master.
Behind the prolific tweeting, Mathers is deeply embedded in the poker world. He has worked with World Series of Poker, BLUFF Media, PocketFives, and PokerAtlas, and is currently one of the main resources helping to clarify the WSOP 2021 situation.
The first edition of the Report includes WSOP details, as well as info on other upcoming poker series. He also highlights a Brad Owen vlog where Owen plays nosebleeds, and pays tribute to recently fallen poker OG Layne "Back-to-Back" Flack.
The Kevmath Report is a must-see for poker fans who want to be in the know. Mathers has long been one of the more consistent and accurate voices in the poker media. Subscribe now to The Kevmath Report, and get into the mind of Kevmath.