The 2021 WSOP was already set to hand out more bracelets than ever before this year, but now they've added 11 more online bracelets for players in New Jersey, Nevada and Pennsylvania.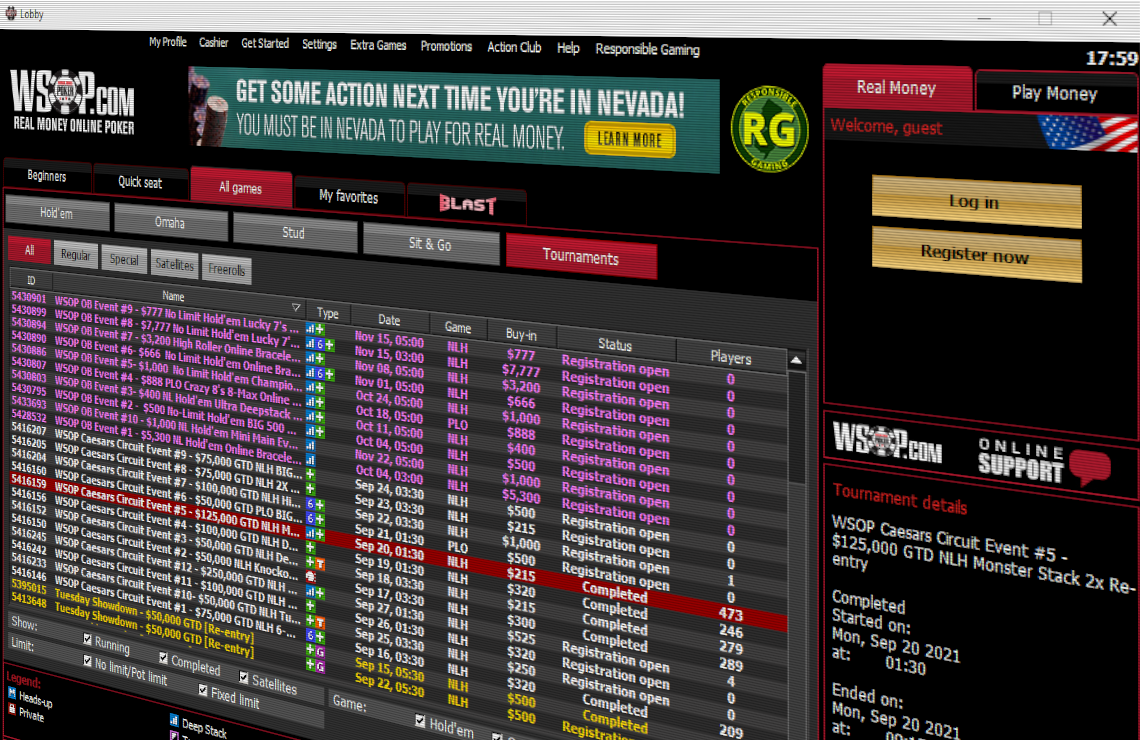 It was already set to be a huge year for the World Series of Poker (WSOP), with more bracelets on offer than any previous year by a significant number. At the moment, there are now a total of 193 bracelets to be won in 2021 after WSOP added 11 new online bracelets during the live series.
The 11 new bracelets will be available to players in Nevada, New Jersey, and Pennsylvania, with New Jersey and Nevada sharing liquidity on 10 events, and Pennsylvania getting one more for its segregated player pool. That brings the total online bracelets awarded in NJ/NV to 43, with a total of 9 awarded in the newly opened PA market.
The new bracelet events run on Sunday nights while the live series is ongoing. That replicates the online schedule of pre-pandemic WSOP, when weekly online games complimented the live action throughout the series.
The first online bracelet ever awarded was back in 2015, and since then, the number of chances to get a virtual bracelet has just increased, but 2021 will be an unprecedented year for online bracelets. There will be 85 total online bracelets handed out this year, nearly as many as will be won on the live felt.
New Bracelet Schedule
The newly announced bracelets will be awarded on WSOP.com and there will be new games in both the NJ/NV shared market, as well as the PA market. The games will run on Sunday evenings, and will be open to any players in the markets, whether they are residents or not.
That means players heading to Vegas to play the live series will be able to compete for the virtual bracelets from their devices while they play live events, but they'll be competing against players in New Jersey as well. There will be 10 events for the NJ/NV market, starting October 3 and running every Sunday through the end of the live Vegas series.
The other new bracelet to be awarded will be exclusive to players in Pennsylvania. It runs on the final Sunday of the live series, but will only be open to players physically located in PA, so players at the live series in Vegas won't be able to play for it.
Whether you are in Nevada, New Jersey, or Pennsylvania, you have a chance at 11 extra bracelets this year from your laptop or tablet. Check out the schedule below, and plan your online shot at a bracelet!
WSOP

2021 Online Bracelet Events During Live Series
Market
Date
Event
Name
Buy-in
NJ+NV
Oct 3
#1
NL Hold'em Freezeout
$5300
NJ+NV
Oct 3
#2
NL Hold'em

BIG

500
$500
NJ+NV
Oct 10
#3
NL Hold'em Ultra Deepstack
$400
NJ+NV
Oct 17
#4

PLO

Crazy 8's 8-Max
$888
NJ+NV
Oct 24
#5
Championship
$1000
NJ+NV
Oct 31
#6
2x Re-entry
$666
NJ+NV
Nov 7
#7
NL Hold'em High Roller 8-Max
$3200
NJ+NV
Nov 14
#8
Lucky 7's No Limit Hold'em High Roller
$7777
NJ+NV
Nov 14
#9
Lucky 7's No Limit Hold'em
$777
NJ+NV
Nov 21
#10
Mini Main Event
$1000
PA
Nov 21
-
Mini Main Event
$1000