Join us as we compare the poker and pop prodigies.
Michael "Timex" McDonald has been all over the headlines of poker since his runner-up finish at the PCA. You can find a brand new interview with McDonald on Bluff Magazine Europe, he's talking super short stack play over on CardPlayer and PokerStars features him in an article talking about how close he came to being the first two-time EPT champion.
He's everywhere. You know who else is everywhere? — Justin Bieber.
Bieber can't seem to stay out of the spotlight, including his latest clash with cops over a DUI arrest. At first glance this is nothing but dumb association, but if you take a closer look, maybe you'll see the similarities that have us asking:
"Is Mike "Timex" McDonald the Justin Bieber of poker?"
You may have heard it in the past: "Phil Ivey is the Tiger Woods of poker." Sure, maybe race has a little something to do with it, but it's also because they have icy cold stares, an unparalleled amount of determination and have the distinct similarity of being absolutely dominant in their games of choice.
So, join us as we go comparing the king of the EPT's Mike "Timex" McDonald to pop icon Justin Bieber.
Canadian: Of course, we have to first address the fact that both Mike and Justin hail from Canada. Granted these Canucks are from different cities, Bieber from London, Ontario and Timex from Waterloo, Ontario. When you look at it on a map though, those cities are only about an hour and change away from each other…pretty close, eh?
"Not nearly close enough to pair them up, pure coincidence. Next."
Pretty: By most accounts, in both their fields, these two guys would be considered pretty good looking kids. Justin Bieber, of course, makes the girls swoon at each and every concert while Timex gets labeled a 9 out of 10 by the fawning fans on Two Plus Two. Let's face it, both these guys would have a leg up with the ladies even if they weren't rich.
"Still no real connection but we're starting to see what you're going for. Is that all?"
Talented: Hate on them all you want but what they have is undeniable talent. They've both got it. Timex has climbed to the mountain top of poker and Bieber has "bad boy-ed" his punk ass to the pinnacle of pop music. These guys both have exhibited a determination and drive to be one of the best, as have most well known celebrities in their given career paths.
"Yea, but a lot of people have these things in common…you've got to do better."
2008: Many people will remember the story of Timex's big splash onto the poker scene when he, as an 18 year old, went to EPT Dortmund in 2008 and won the whole thing for over $1.3 million and made his mark on the worldwide poker scene. That happens to be the same year that a 14 year old Justin Bieber became the #1 most subscribed to Canadian musician on YouTube (number 20 in the world at the time) and it was the same year he was 'discovered' by a talent manager and introduced to pop star Usher. Yep, the pair of good looking Canadian phenoms were discovered in the same year.
"OK, that's interesting…"
Yellow Lambo:
"What??"
That's right. Yellow Lamborghinis. Mike McDonald owns a yellow Lambo convertable. He called it one of the "least responsible" financial decisions he's made. In fact, it's the same kind and color that Justin Bieber was driving when he was busted for his irresponsible DUI this week. The $200k sportcar, which Bieber was drag racing, has a top speed of 200mph and both these guys drive one.
"Bring it home, you've just about got me…"
Retirement: Both McDonald and Bieber publicly announced their premature retirement. Bieber pulled a head fake on Christmas Eve last year via twitter at the ripe old retiring age of 19. McDonald announced his retirement from the game of poker at a much older and wiser 20 years of age, back in 2010. But, of course, we know that both have successfully returned to the limelight in their separate professions: Timex at the PCA and Bieber with a DUI.
"Oh man, oh man…is this some sort of joke?"
So is Mike "Timex" McDonald the Justin Bieber of poker? If you throw in the icy stares, the well groomed hair, the fact they both like to show off their chests a little too much and the fact that Justin Bieber actually has a song called 'One Time' …it's close.
But NO, we're not prepared to saddle McDonald with that title. Simply because despite their seemingly parallel lives, Bieber, from first hand accounts, is a total douche whereas Timex has a reputation for maybe being a little flashy, and a little curt, but overall smart and humble in person.
That said, that yellow Lambo has probably worn out its welcome.
What do you think?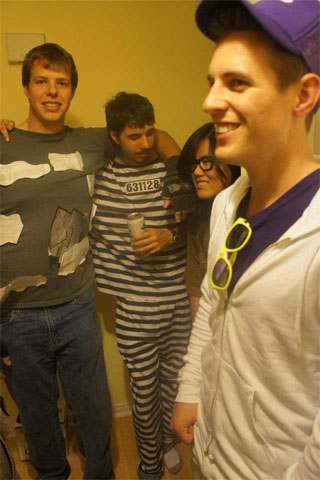 Check out Timex dressed as Bieber for Halloween. Photo courtesy of the good humored Mike McDonald.