DraftKing's Millionaire Maker will pay out $2.2 million in cash this weekend.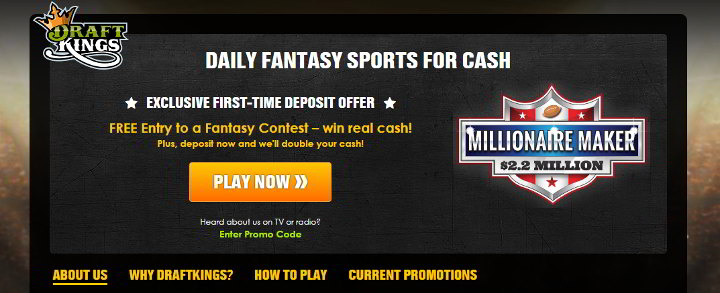 Okay, for all you guys that don't know, daily fantasy sports is a fun and exciting way to watch sports and possibly win life-changing money. For example FanDuel is giving away $3 million in a single fantasy football contest this weekend. And how much does it cost to enter? I'm glad you asked. It only costs $25 to draft a team, and first place is $500,000. In all, more than 26,400 entries will win at least double their money.
But if a shot at $500,000 for 25 bucks isn't good enough for you, then check out DraftKings where you can win $1 million with a $27 entry. That's right, $1 million is being given way to the first place finisher, and $2.2 million will be given away in total for this single contest.
Yes there is skill involved in drafting these teams but there's also a little luck as well, and while everybody has their own luck it never hurts to have a little inside information when picking your team. So if you want some tips on who we think will have a big weekend in the NFL, read on.
When choosing players for your fantasy football team it's always prudent to consider their fantasy football salaries. It is safe to assume that most of the highest salary players have the most potential, but here will give you some less obvious plays to help you build your lineup.
At the quarterback position we really like Colin Kaepernick and Eli Manning this week. St. Louis always struggles to contain Kaepernick and Manning is facing a Colts defense that gave up six touchdown passes to Ben Roethlisberger last week.
At the running back position you'll get great value from guys like Frank Gore and Jeremy Hill who will be starting in place of the injured Giovanni Bernard and should get play touches.
T.Y. Hilton has become almost a must start every week, and it's no different this week. But there's play wide receivers that will have big games especially with the patriots and the Broncos facing off on Sunday, but we're here to give you some value picks today, so check out DeAndre Hopkins and Odell Beckham Jr..
Look for Rob Gronkowski and Julius Thomas to have big games as their teams face each other. In the value category Vernon Davis and Owen Daniels if he plays will make for a couple of great value tight ends.
The Browns are probably the lowest priced defense that we like and the Chiefs should have a big game at home against Mike Vick and the New York Jets.
As always, if you still don't have an account at DraftKings or FanDuel you can sign up here and here, all we ask is that if you have a big week tweet at its let us know drop us an email or post on our Facebook page. Good luck this weekend.