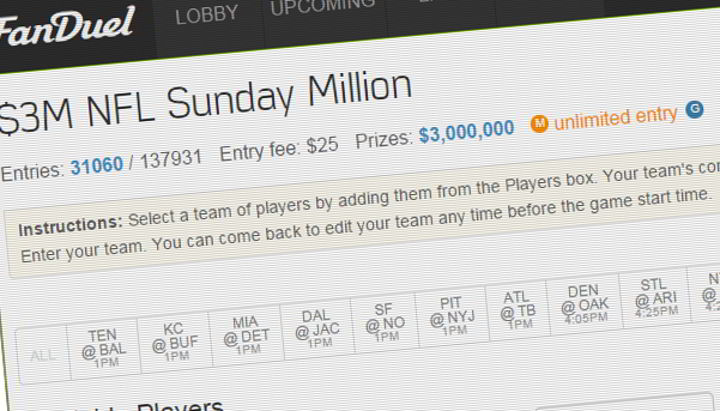 It's getting close to crunch time so if you plan on playing the FanDuel $3 Million Sunday Million you better get your entry now or risk being locked out!
Lucky for you, we have some clutch recommendations on wide receivers so that you can hopefully fill out the winning lineup and pocket a cool $500,000. But hey, even if you don't win the top prize they are still giving out $3 MILLION to more than 26,400 entrants so don't let this fun opportunity pass you by.
We already told you who we like at the QB position and who we like at the RB position. Today, we round out our recommendations with people we think will be the top pass catchers and excellent value picks this weekend.
Antonio Brown
Pittsburgh is coming off a two-game stretch where they have scored 12 touchdowns through the air. We don't expect any that the change this week as they face the New York Jets, a team that many fantasy football players target with the passing game week in and week out.
Odell Beckham Jr.
in what could be considered a breakout week last week, Beckham torched the Indianapolis secondary 456 yards on eight receptions. Can we expect the same type of performance in Seattle? Possibly. The Seahawks have been generous with fantasy points to wide receivers and with a veteran QB like Eli Manning behind center any game can be a big game for this talented rookie.
Torrey Smith
Outside his no-show in Cincinnati two weeks ago, Smith has been hot in the red zone scoring four touchdowns in his last three non-Cincinnati games. At a price point of $5900 Smith makes a great value play with tremendous upside at home against the Tennessee defense.
Brandin Cooks
The Saints have some injuries on offense at both wide receiver and running back positions. This should translate into a big game for Cooks. Sure TE Jimmy Graham will get lots of looks, but on the New Orleans offense there's more than enough balls in the air to satisfy to pass catchers, and we saw what Peyton Manning did to the 49ers a few weeks ago.
Cecil Shorts
Dallas is in the best at defending the pass in defending slot receivers is probably the most vulnerable spot in the defense of secondary and that just happens to be where shorts will be playing this weekend. Shorts will only count $5900 against your salary-cap and provides the opportunity to score big points and multiple touchdowns.
There you have it. With your F5 run good and our recommendations you should do quite well in the $3 Million Sunday Million at FanDuel.
What that you say? You haven't gotten your F5 run good? No problem, we've got you covered. Just click on this link right here and sign up for an account through us to help support the poker content you know and love and have the fantasy football gods shower their luck down upon you (well at least we think that's how it works).