DFS site now offering the largest weekly tournament ever.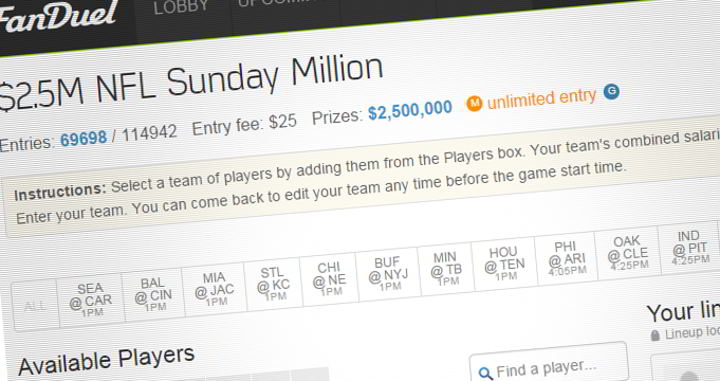 This week FanDuel has upped their game and is now offering the largest one week fantasy football league ever with $2.5 Million in total prizes. The lucky player that comes in first will take home a cool $500,000. You get all this for a $25 entry fee. And even if you're not the luckiest player to submit a line up on Sunday, they are still paying out $2.5 Million for that single contest. Nearly 20% of the players that enter will double their money in the top eight finishers will receive a five figure payout.
Not sure which players you should draft for your team? Don't worry, we've got you covered with some of our five-star recommendations. Though nobody on the staff here is ever taken down this massive fantasy football contest, we like to think we know what we're doing.
At the QB position this week the staff over here at F5 likes Russell Wilson. We also have high expectations for Tony Romo this week, but if you decide to play him make sure you check the injury report.
At the running back position we all know DeMarco Murray is set to have another great game, but if you're looking for some lower salary guys at this position we like Jerick McKinnon and Chris Ivory.
Randall Cobb and T.Y. Hilton are some studs we like it wide receiver position this week and we also like Rob Gronkowski and Martellus Bennett at the Tight End position who will be squaring off against each other this week.
Whoever you decide to put into your lineup, good luck. We hope you make some cash, and if you do, make sure you tell us all about it on Facebook or Twitter.
And if you don't already have an account at FanDuel, just click right here and you'll be on your way to some exciting football action this weekend.